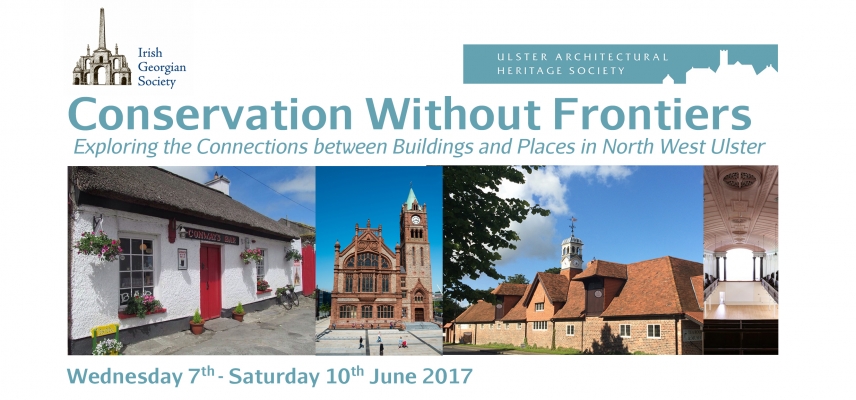 Wednesday 7 June, 2017


Conservation Without Frontiers
Exploring the Connections between Buildings and Places in North West Ulster
The UAHS and IGS Cross-Border Summer School is back for 2017! Once again, this special event brings together students, experts and enthusiasts to explore, discuss, debate and enjoy issues relating to our shared Irish heritage in the context of Derry City & Strabane and Donegal. The event will focus on conservation and heritage led regeneration in the built environment of North West Ulster.
There will be many oppurtunities to visit and engage with the history and heritage of the area through talks, site visits to vernacular and civic buildings of architectural interest, demonstrations of traditional building skills and open discussions.
Speakers include: Dr. Brian Lacey, Paddy Matthews, Dr. Andrew McClelland, Dr. Edward McParland, Dr. Fidelma Mullane, Ronan O' Donnell, Dr. Barry O' Reilly, Dr. Greg Stevenson and Prof. Alistair Rowan.
To download the full programme click here.
To book your place please click here. Tickets for the event cost €70 for 1 day or €220 for 3 days for IGS/UAHS members. Tickets cost €80 for 1 day and €240 for 3 days for non-members.
If you are making a booking through the UAHS, please click here.
For more information please contact UAHS on +44 (0) 2890 550 213 or summerschool@uahs.org.uk
The ticket price includes transport between venues, and a pick up in the morning and evening on Friday, Saturday and Sunday. For more information contact summerschool@uahs.org.uk