IGS Conservation Awards 2017 - Results
07.10.2017
Posted by IGS
The winners of the Irish Georgian Society's 2017 Architectural Conservation Award and Original Drawings Award were announced by Michael Wall, Chairman of the Irish Georgian Foundation, at a well-attended ceremony presided over by Dr Edward McParland in the Irish Architectural Archive on Thursday 5th October.

The awards were launched in 2009 and are open to Irish architects or architectural practices, building surveyors, contractors, engineers and other professionals involved in the conservation of historic buildings in Ireland. Their purpose is to encourage excellence in the area of conservation and to celebrate those conservation professionals and practitioners responsible for projects of merit.
Dr. Edward McParland observed that the IGS Conservation Awards were significant as they celebrated the traditional crafts essential in conserving our built heritage and the skills and knowledge of those involved.  He further emphasised the importance of the Awards in demonstrating that decay can be reversed and allow for the recycling and new use of buildings. He concluded by reminding the attendees that these conservation projects bring huge public benefit, through the pleasure and glamour the buildings lend to public and private spaces.
In announcing the award winners, Michael Wall thanked Ronan Group Real Estate and Johnny Ronan for sponsoring the initiative and also thanked Mary Bryan and Livia Hurley for their work in steering the initiative and ensuring its delivery this year. 
The Awards
Original Drawing – Winner: Vincent Coleman
For his drawing of the Cathedral Church of St. Brendan, Clonfert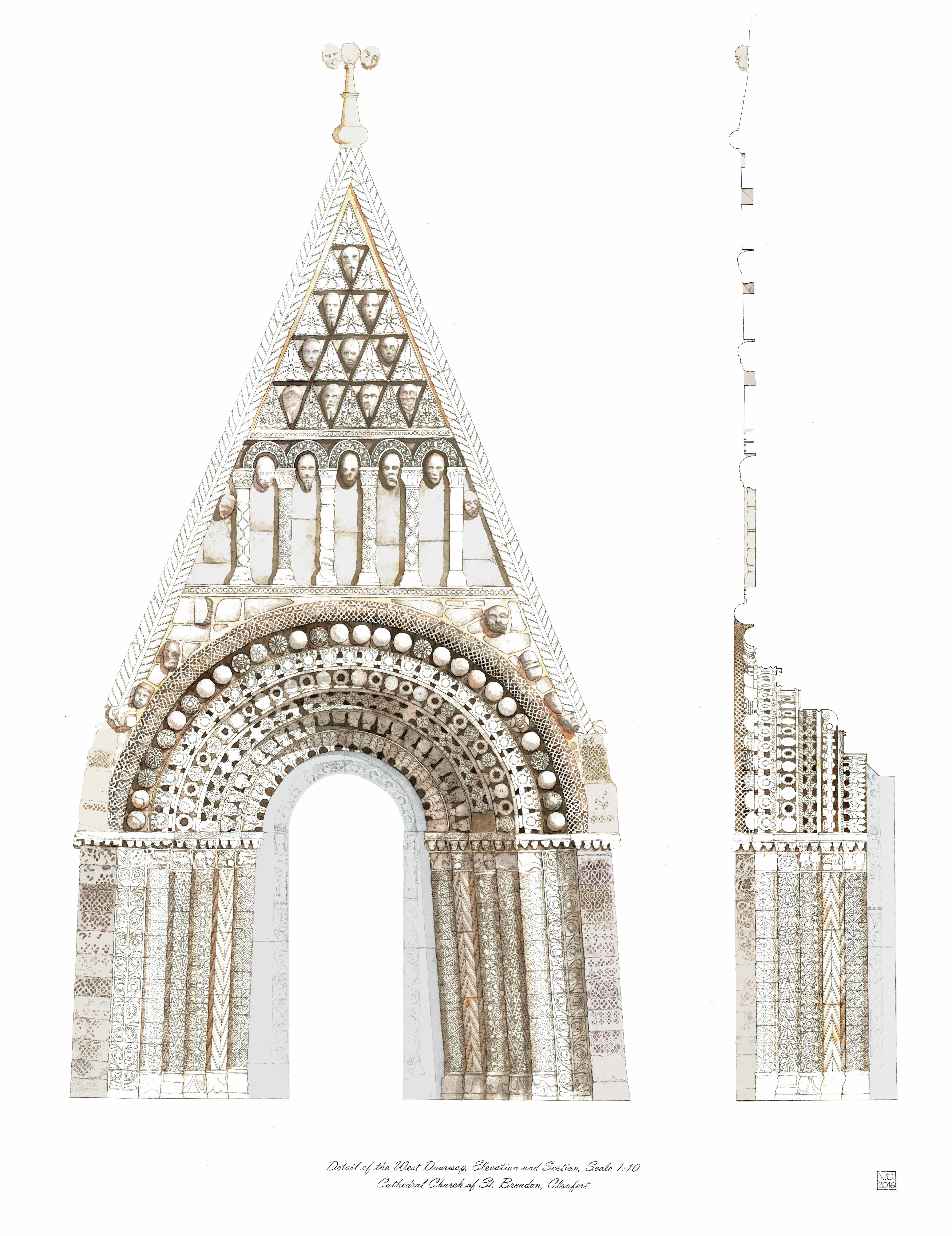 Conservation Award – Winner: The Shelbourne Hotel
Architect: Lindsay Conservation Architects
Contractor: Acol. Ltd
Client: Kennedy Wilson
View a video detailing the facade restoration project at The Shelbourne on youtube here.
Conservation Award – Highly Commended: Stradbally Market House 
Architect: Lotts Architecture
Contractor: Liam Meagher Construction
Client: Stradbally Market House Restoration Committee
Conservation Award – Highly Commended: Fancroft Mill
Architect: Marcus & Irene Sweeney
Client: Fancroft Mill & Gardens
Conservation Award – Commended: Newbridge House Courtyard
Architect: Fionnuala May, Architect, Fingal County Council
Contractor: Frances J Haughey Building Conservation
Client: Fingal County Council
Conservation Award – Commended: Richmond Barracks
Architects: Blackwood Associates Architects & Margaret Quinlan Architects
Contractor: Purcell Construction
Client: Dublin City Council
The IGS Conservation Awards Committee is composed of: Dr. Edward McParland, Mary Bryan, Livia Hurley, Frank McDonald, Frank McCloskey and David Griffin. Chairman of IGS, Michael Wall stood in for Mary Bryan on the evening.

Read Frank McDonald's write up on the Awards in The Irish Times (date of publication: 7th October 2017) on The Irish Times website.