City Assembly House update - May 2017
25.05.2017
Posted by Zoe Coleman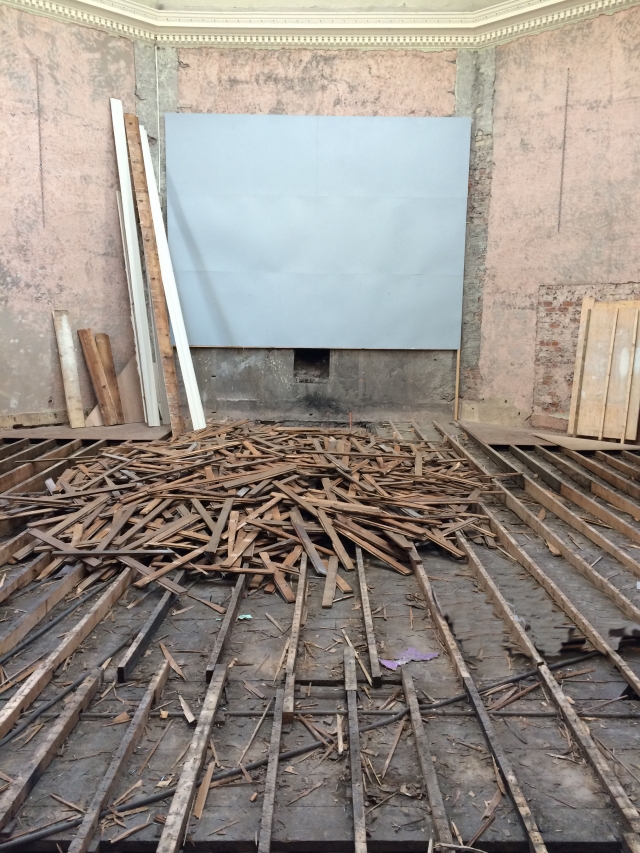 Significant subsidence of up to 150mm of the central floor of the Exhibition Room was covered over in the 1950s with a plain timber floor. This newer floor is to be replaced with an oak floor whilst the original is to be conserved in situ.
Stone covered well, lined with Dublin 'calp' limestone found under the basement floor. Filled with silt and possibly up to 10 feet deep, the well will be conserved in situ.
Brick relieving arch over inner doorway to basement hall. Fragmented limestone paving was uncovered beneath 1950s cement floor.
Blocked-up doorway that once opened onto a lightwell running to the side of the building on Coppinger Row. Filled in, possibly in the 1950s.
Building works have started in the City Assembly House which, on completion, will see the revitalisation of the building as a major cultural venue in Dublin's historic core. The building will continue to develop in its role as the home of the Irish Georgian and plans are already being developed for a programme of events that will include major art exhibitions, musical and theatrical performances, and conferences and lectures. Keep an eye out for updates over the coming months.
This project is being undertaken in partnership with Dublin City Council through the support of the Gilbert & Ildiko Butler Family Foundation, the Jerome L Greene Foundation, The Department of Arts, Heritage, Rural, Regional & Gaeltacht Affairs, and the generosity of foundations and supporters in Ireland, the USA and the UK.
Follow the City Assembly House facebook page and twitter for updates!