London Chapter Book Launch & Dinner at The Naval & Military Club
08.11.2013
Posted by Elizabeth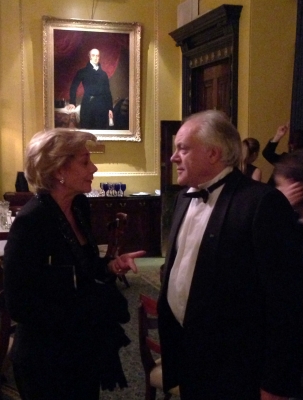 Dinner At The In And Out Club
Friday 29 November
The pre-Christmas Club dinner has become a firm fixture in the London Chapter's annual calendar and this year's will be our ninth and we will be dining at the In and Out Club, a military club located in the heart of clubland – St James's Square – the first of the West The Club – correctly known as the Naval & Military Club – was formed in 1862 in response to the fact that the then three Service clubs were fully subscribed. In 1865 it moved to Cambridge House on Piccadilly where it remained for almost 130 years. The Club took on its colloquial name of the In and Out from the famous entrance on Piccadilly. In 1999 having failed to agree terms for a new lease the Club was able to purchase the freehold of 4 St James's Square, its current premises. No 4 boasts a fascinating history. It was first built in 1679 for Anthony, 11th and then rebuilt in 1728 following a serious fire. Various architects have been linked to the re-design of the house including Hawksmoor and Giacomo Leoni, but its true origins remain uncertain. In 1761 Horace Walpole visited the house and commented favourably on a statue of Inigo Jones "a niche on the noble staircase". The statue is still there today. Subsequent occupants have included Earl de Grey, first president of the RIBA, and, from 1912 to 1942 it was owned and occupied by Viscount Astor and his famous wife, Nancy, the first woman to sit as a Member of Parliament. The building was requisitioned it was used as a Court House – as a division of the High Court – and then finally as an Employment Appeals Tribunal. How times change!
After much persuasion we are being allowed to dine in the magnificent former Ballroom (now known as the Coffee Room) on the first floor over looking St James's Square. These dinners are an opportunity to glimpse into London's world of private dining clubs. Access to these clubs is still very restricted and it is a privilege to be allowed to enjoy their magnificent buildings and soak up the atmosphere. This year's speaker is Vice President of the Irish Georgian Society, writer and architectural blogger Robert O'Byrne who will be well known to members as the author of more than a dozen books, including The Irish Georgian Society: A Celebration and more recently, World War and later became the home of the Arts Council. Subsequently Luggala Days: The Story of a Guinness House and Romantic Irish Homes. Having recently established his own weblog - http://theirishaesthete.com - to share his thoughts on a variety of architectural related topics, Robert O'Byrne is ideally placed to talk to us about the current state of appreciation for our architectural heritage and amuse us with anecdotes from his many interviews with country house owners.
Dinner (black tie) will be at 7.00pm for 7.30pm with carriages from 10.30pm. Tickets for the evening cost £88 and include champagne before dinner, a three-course dinner with coffee, wine and port afterwards.Guests will be welcome, but priority will be given to members.
If you would like to attend, please contact Tim Bacon at streakybacon@ramsdenfarm.co.uk.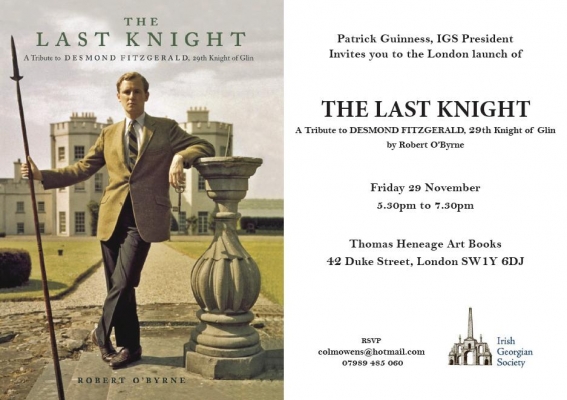 The Last Knight: A Celebration Of Desmond Fitzgerald
Friday 29 November
Desmond FitzGerald, 29th Knight of Glin can be acclaimed for having achieved an astonishing amount prior to his death in September 2011. As an architectural and art historian, he was among the first to recognise and celebrate the work of Irish artists and craftsmen, bringing this to the attention of an international audience. As an advocate of architectural conservation and preservation, especially through his work as President of the Irish Georgian Society, he worked tirelessly to ensure a future for the country's architectural heritage. As a collector and tastemaker, he equally helped to encourage greater appreciation at home and abroad of Ireland's outstanding artists, architects and designers over many centuries. The Last Knight, by Robert O'Byrne, will examine and celebrate all these aspects of Desmond FitzGerald's life, and serve as a rallying call for the present generation to emulate his work. Published by the Irish Georgian Society, members attending dinner will be invited to share a pre dinner drink at a private launch for this wonderful book with all proceeds from the book's sale going to benefit the Irish Georgian Society. Full details will be sent with dinner acknowledgement.