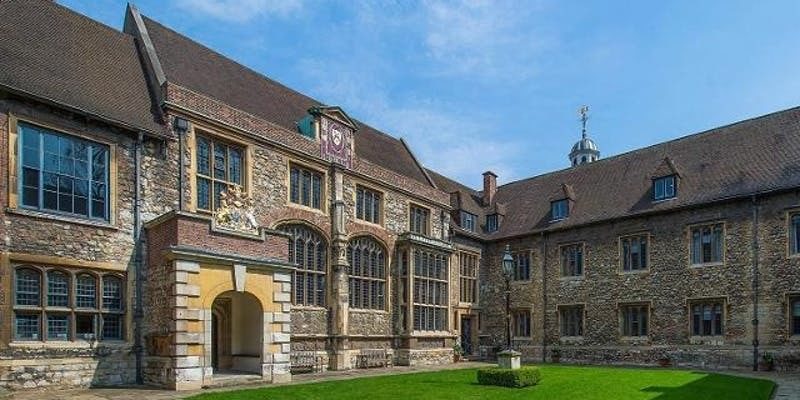 05.02.2020, 10:30 A.M.
Come and enjoy fabulous Farringdon and its twin gems….
Charterhouse
A stone's throw away from Smithfield Meat Market is the Charterhouse. Founded by the Jacobean merchant Thomas Sutton in 1611, the year of his death, he made provision for the establishment of a hospital for pensioners and a boys' school. Built on the site of a Carthusian monastery, the complex's magnificent chapel was designed by Sir Giles Gilbert Scott, also famous for our iconic red telephone boxes and Battersea Power Station.
Famous old boys included: John Wesley, founder of Methodism; Major-General Henry Havelock, commander at the time of the Indian Mutiny; and novelist William Makepeace Thackeray. The school moved to Godalming in Victorian times but the beautiful surrounding buildings are the home of the current residents, who you may meet on your private guided tour.
Lunch
We have selected the local Fox And Anchor which oozes atmosphere and is the popular haunt of meat market porters. It is a Grade II-listed building with interior décor to match. Select one-course, which is included in the price (drinks not included).
St Johns Gate
This gateway greeted the Knights of St John as they returned from the Holy Land. Our guided tour will reveal many of the hidden secrets of the Order, suppressed by Henry VIII and permanently dissolved by Elizabeth I.
In Georgian times, the building was a printing house and employed the young Samuel Johnson who compiled the first English dictionary. Richard Hogarth ran a coffee house here in the early 1700s and his son, William became one of the most famous satirists of his day through his paintings. In the 1800s, the gateway became The Old Jerusalem Tavern, a favourite of Charles Dickens. Today its museum tells its story and boasts a handsome church nearby with a delightful crypt and cloister garden all of which is included in our visit.
Details
Please meet at 10.30am outside the Barbican Underground Station. Members can visit the museum of the Charterhouse before our tour begins at 11.30am. We will have one-course lunch, with drinks purchased by members separately. We anticipate finishing at St Johns Gate at 4pm, although members are free to visit the museum and crypt at this time, if they so wish.
For further information, please contact the event organiser:
Esme Fay - esmefay@aol.com (01708 437372 landline or 078 0289 8835 mobile)
Tickets
Get tickets by visiting our store below. Ticket sales are powered by EventBrite.
Buy Tickets