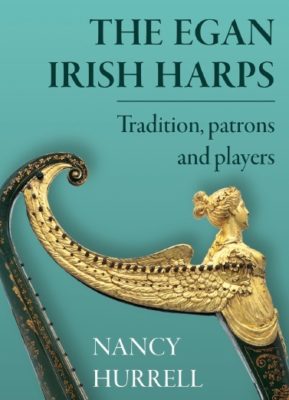 17.05.2019, 17:00 P.M.
Egan Irish Harps: Neoclassical Art Meets Traditional Music
Nancy Hurrell, Author
Offered by our US Chapter, this special performance, lecture and reception in Boston celebrates the release of The Egan Irish Harps: Tradition, Patrons and Players by Nancy Hurrell of Braintree, MA, recently published by Four Courts Press with support from John J. Burns Library.
The harps of Dublin maker John Egan (fl. 1797-1829) display the exquisite artistry of the late Georgian period, as evidenced by the two rare Irish harps in Burns Library. A self-taught harp maker, Egan was awarded a royal warrant by George IV and invented a new national instrument: the "Portable Irish Harp," which proved vital to Ireland's continued harping tradition. Hurrell will discuss Egan's innovations and legacy, and play a 200-year old Egan harp from her own collection.
This event is jointly sponsored by the Irish Georgian Society and Boston College Libraries. A full bar and hors d'oeuvres reception will begin at 5:00 PM with the program to follow at 6:00 PM.
ABOUT THE AUTHOR
Nancy Hurrell is a harpist, harp historian and consultant to the Museum of Fine Arts, Boston. The leading authority on Dublin harp maker John Egan (fl. 1797-1829), Hurrell spent a decade examining harps in museums and private collections and is author of the Egan entry in the Grove Dictionary of Musical Instruments (2014). A performer in several Boston early music ensembles, she has been a harp instructor at the Boston Conservatory and Brandeis University. Her pioneering CD, The Egan Irish Harp, is the first recording of an Egan Portable Irish Harp, c.1820. In 2019, Four Courts Press published her groundbreaking monograph, The Egan Irish Harps: Tradition, Patrons and Players.
For more information about booking this event, please download the form by clicking here or email: info@irishgeorgiansociety.com