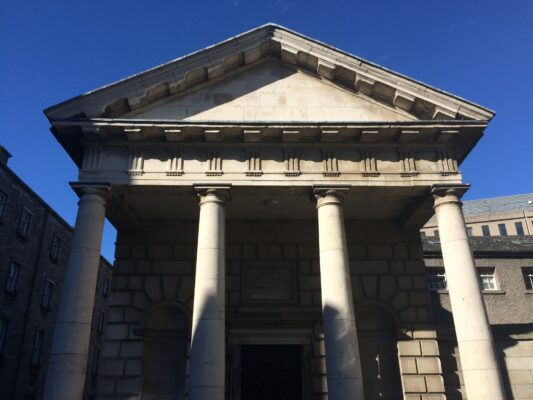 13.06.2020, 13:00 P.M.
Georgian Architecture: its origins and inspiration is a free children's whirlwind live illustrated talk by Arran Henderson of Dublin Decoded for Cruinniú na nÓg 2020.
What exactly is Georgian architecture? Where did the inspiration come from? Why is it so celebrated? Who were the top architects? And what are the "rules" they followed?
A 45-minute live illustrated and interactive talk delivered by Arran Henderson of Dublin Decoded tours covers…
· main features, and main terms: columns and capitals; porticos and pediments, Doric and Ionic… what does it all mean?
· where does the inspiration for Georgian architecture come from, and what are the rules?
· the classical "orders" and how to recognise them!
· learn about some celebrated Georgian architects (Gandon, Johnston and others) and about key examples of their work.
Arran's illustrated talk is being delivered on behalf of the Irish Georgian Society and the Department of Culture, Heritage and the Gaeltacht for Cruinniú na nÓg 2020.

(Recommended age 13-18 years)

To participate in this free illustrated talk, which will be delivered through Zoom, it is necessary to download Zoom https://zoom.us/download (free to download) onto your computer/tablet or smart phone in advance of the workshop.
Please click on this live link https://us02web.zoom.us/j/89777675483 ten minutes prior to the commencement of the workshop (i.e, you can join the meeting from 12.50am) and the host, Arran of Dublin Decoded will admit you. We regret that we cannot admit late comers to the talk - so please do log on between 12.50 noon and 1pm.
Please note that you will be able to hear and see Arran delivering the talk from his library but Arran and the Irish Georgian Society will be unable to see or hear you. You can ask questions at the workshop through the Zoom chat function.