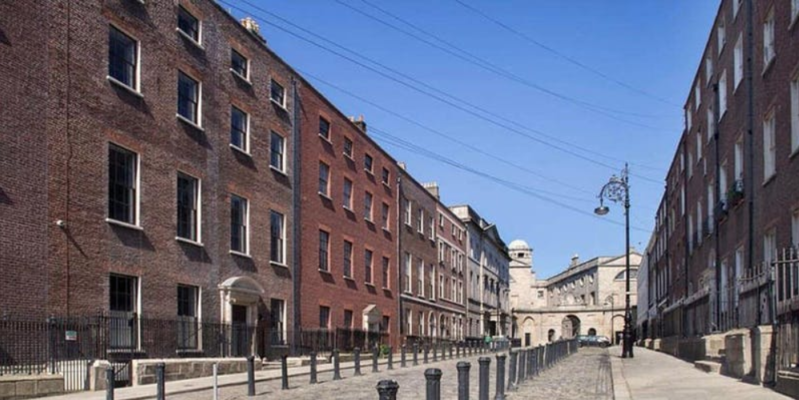 26.09.2019, 18:30 P.M.
Description

Our Autumn lecture will focus on the award-winning museum at 14 Henrietta Street, Dublin, which opened its doors to the public in September 2018. The lecture will be provided by Charles Duggan, Heritage Officer for Dublin City Council, and Tomás O'Connor, Associate Architect at Shaffrey Associates Architects.
Henrietta Street was developed from the late 1720s as one of Dublin's premier addresses. By the mid-18th century, the street had amongst its residents some of Ireland's highest ranking political figures and power brokers. Its status as the city's best residential street began to change after the Act of Union of Great Britain and Ireland in 1800. Gradually the street's houses were converted to offices for the legal profession, before being transformed from the 1870s into tenements for the urban poor.
'The Value of Memory and Creative Artistic Work in the making of a New Dublin Social History Museum' – our lecture will include a historic overview of 14 Henrietta Street and its transformation to tenements, documenting the rescue of the house from imminent collapse, and the role of community participation and memory in the creation of its exhibition content. 14 Henrietta Street presents the stories, personal experiences and objects of former residents of this important 18th-century Dublin townhouse, situated on one of the city's earliest and most intact Georgian streets. The project encompassed a ten-year long programme of conservation works.
14 Henrietta Street is run by the Dublin City Council Culture Company. The project was the recipient of the Best Conservation Project and Best Overall Project by the Royal Institute of Architects of Ireland 2018 and has been shortlisted for the Mies van der Rohe prize 2019.
Biographies
Charles Duggan, Heritage Officer for Dublin City Council, works collaboratively with a wide range of partners to research, interpret and present aspects of Dublin's social and cultural heritage. Charles project managed the creation of 14 Henrietta Street. Guided by an expert advisory group, he led the museum's development with a core curatorial and research team. Charles has also established a number of pioneering research projects of understudied and underappreciated aspects of the city's architectural heritage, including a research project focusing on 20th-century architecture in Dublin, which is published in a three-volume series of books called More Than Concrete Blocks, Dublin City's Twentieth-century Buildings and Their Stories.
Tomás O'Connor is an Associate in Shaffrey Architects, joining the firm in 2002. Tomás' core experience includes design expertise in the adaptation and insertion of contemporary design into historic settings of both individual buildings and historic urban cores. He was the lead Architect on the Henrietta Street Museum Project. Tomás is currently working on the new Library for Dublin City, comprising the adaptive reuse of eight mid-18th-century former townhouses on Parnell Square North, as part of the wider Parnell Square Cultural Quarter Project; and the recovery / reimagining of Dromdiah House, a ruinous 1830s Greek revival structure in Co. Cork.
Details
The lecture will be delivered at the central London office of Donald Insall Associates, located at 12 Devonshire Street, W1G 7AB. Doors will open at 6.30pm, with wine served before the lecture begins at 7pm. The lecture will last approximately 1 hour, with a further 10-20 minutes for questions. The lecture per person costs £17 members, £12 YIG members, or £20 non-members.
For further inforamtion please contact the organiser:
Ashleigh Murray - ashleigh_mur@hotmail.com (07837766974)
Image:
http://www.skibbereeneagle.ie/uncategorized/dublins-historic-henrietta-street/
Tickets
Get tickets by visiting our store below. Ticket sales are powered by EventBrite.
Buy Tickets