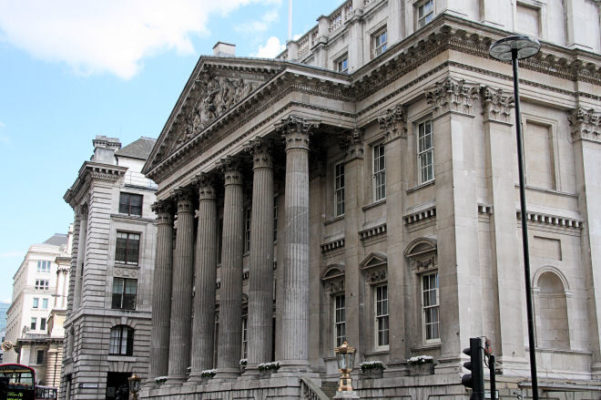 16.05.2018, 18:30 P.M.
The Mansion House, Home of the Lord Mayor of London
In September last year, members of the Irish Georgian Society London were treated to a tour of the public areas of the Lord Mayor's official residence, the Mansion House, in the heart of the City of London. In May this year, former London Chapter Chairman and architect, Nicholas Thompson, will speak about the history of this important 18th-century building and the major, two-year programme of refurbishment carried out by the City in 1991-93, for which Donald Insall Associates were conservation architects and interior designers.
The Mansion House was built to designs derived from Palladian prototypes by George Dance the Elder, between 1739 and 1752, as a home for the Lord Mayor during his term of office. It is now the home of the City's 690th Lord Mayor, Charles Bowman. As well as his home for a year, it is also the base from which he and his staff work and where he entertains, both on behalf of the City and the Nation. Until 1991, it was also where the Mayor sat in judgement as the City's chief magistrate.
Unlike Dublin's Mansion House, built in 1705 as a private house and only 10 years later converted to the residence of Dublin's Lord Mayor, London's Mansion House was designed specifically for the purpose which it continues to serve to the present day. It now also houses the important collection of Dutch and Flemish paintings bequeathed in 1987 to the City by property developer, Lord Samuel.
Nicholas's lecture, which will be profusely illustrated to provide exceptional insights into both public and private areas of the building and during times of change and development, will be delivered at the central London office of Donald Insall Associates, located at 12 Devonshire Street, W1G 7AB.
Doors will open at 6.30pm, with wine served before the lecture begins at 7pm. The lecture will last approximately 1-1.5 hours, with a further 10-20 minutes for questions. The lecture per person costs £17 members, £12 YIG members, or £20 non-members.
For further information, please contact the event organiser:
Ashleigh Murray - ashleigh_mur@hotmail.com (078 3776 6974)
(Image from www.walklondon.com)
Tickets
Get tickets by visiting our store below. Ticket sales are powered by EventBrite.
Buy Tickets