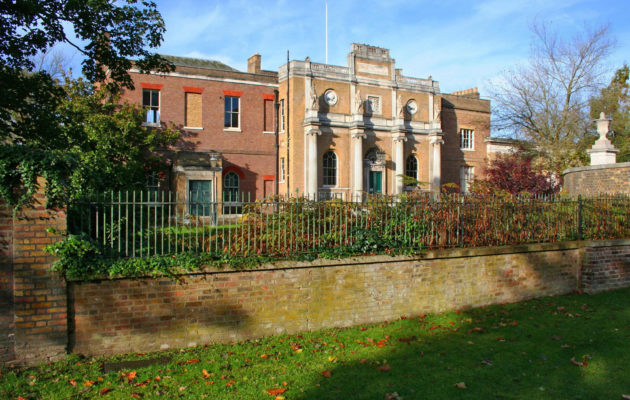 19.04.2018, 14:00 P.M.
As attendees learned at the Society's recent Dr Paul Larmour lecture, there is only one building by Sir John Soane in Belfast, The Royal Belfast Academical Institution, and even that is a watered-down design. For full-blown Soane style, Pitzhanger Manor shows the architect's individualistic style at his best. Rebuilt as his country home, the estate is now surrounded by the built environment of Ealing. Fortunately, its immediate parkland setting, the Regency landscape of Walpole Park (itself Grade II listed), is still intact.
Pitzhanger Manor was owned by Soane from 1800 to 1810. He demolished most of the existing building, apart from the two-storey south wing built in 1768 by his former employer, George Dance the Younger. Architects Jestico + Whiles are working closely with Julian Harrap Architects to sensitively restore this Grade I-listed masterpiece to its 19th-century splendour.
Later this year, the house will be reopened by Ealing Council and the Pitzhanger Manor Gallery Trust as a world-class museum. Ongoing work includes the restoration of the house and entrance lodge, demolition of non-original elements, reinstatement of the conservatory, refurbishment of the gallery as an exhibition space, and the construction of a new café and events building.
The Irish Georgian Society London is very privileged to be invited to a rare, one-off tour of the house while works are nearing completion. This will be a preview prior to its public opening. Distinguished architect Heinz Richardson, Board Director of Jestico + Whiles, has kindly offered to show a small group around the site. Please note that building site conditions will apply.
The tour will start at 2pm sharp, at the entrance to Pitzhanger Manor, and will finish around 3.30pm. The event is for members only and the cost per person is £25 members and £20 YIG members. After the tour, attendees are welcome to congregate at a chosen local pub.
Numbers are very limited so early booking is highly advisable.

For further information, please contact the event organiser:

Stuart Blakley - stuart.blakley@taylorwimpey.com

(Image ® Stuart Blakley)

Tickets
Get tickets by visiting our store below. Ticket sales are powered by EventBrite
Buy Tickets