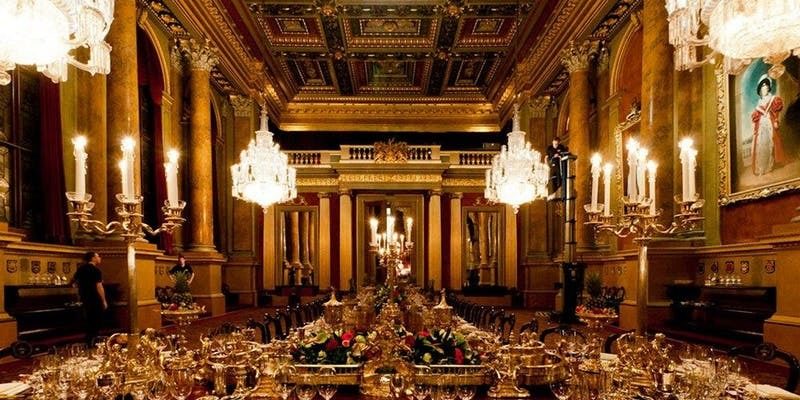 04.11.2019, 11:40 A.M.
Visit to the Goldsmith's Hall, followed by (optional) lunch at the Ironmonger's Hall
Goldsmith's Hall
The Goldsmith's Hall is only open to public tours 4 days a year and we have secured 20 places for our members on one of these exclusive tours.
The Goldsmiths' Company is one of the Twelve Great Livery Companies of the City of London and received its first royal charter in 1327. A 'goldsmith' has always been understood to mean a worker in both gold and silver, and today encompasses those who work in platinum and palladium as well.
In 1339, the Company established their first headquarters on the current site, the earliest recorded of any Livery Company. In c.1635, this was replaced by a larger Hall, designed by Nicholas Stone, the King's Mason.
In 1829, the 17th-century building was replaced by a new structure by Philip Hardwick, the Company's surveyor, and opened with a grand banquet in July 1835. Nikolaus Pevsner descries the 19th-century Hall as 'a noble Portland stone palace on a plinth of Haytor granite'. The building retains several impressive rooms, including the main Livery Hall, a a magnificently proportioned room with Corinthian columns of scagliola and a richly decorated moulded ceiling in gold leaf.
Ironmonger's Hall (Optional)
If you would like to join us for a lunch after the tour, we will be dining at the nearby Ironmonger's Hall.
The Worshipful Company of Ironmongers is also one of the Twelve Great Livery Companies of the City of London, and was incorporated under a Royal Charter in 1463. Their Neo-Tudor headquarters was erected in 1922-25 to the designs of Sydney Tatchall. The Tudor style was considered appropriate for the housing of an ancient guild and also as it recalled the Golden Age of Craftsmanship.
Details
Please gather at the reception of the Goldsmith's Hall at 11.40am. The tour will start at 12pm, lasting an hour.
If you would like to join us for lunch after the tour, please purchase the relevant ticket. This will comprise a two-course lunch in the Ironmonger's Hall - drinks to be purchased separately by members.
For further information, please contact the event organiser:
John Barber – johnbarber@lmkendon.co.uk (07956 609777)
Image:
Goldsmith's Hall - https://www.itavenues.co.uk/ve...
Tickets
Get tickets by visiting our store below. Ticket sales are powered by EventBrite.
Buy Tickets